Stickers & Decal Printing Services
Promotional stickers and decals are everywhere. They can be found on envelopes, branded packaging, wine bottles, food cans, stationery, shop windows, gift boxes, and much more. From the smallest of logos to the grandest of store front displays, printed stickers are one of the simplest and most affordable forms of visual marketing.
Classic Colour Copying specialises in sticker printing and with over 25 years' experience in the industry, we are the perfect choice for top-quality, premium sticker printing in Melbourne. We work with a broad variety of industries, so we are certain that we can cater to your needs, no matter the scope or the size. Whether your speciality is construction, retail, event planning, or the restaurant biz, we've got a design to suit you.

Choosing the right sticker type
The best reason to choose Classic Colour Copying is our flexibility and commitment to quality. There are no restrictions on size or quantity when ordering our printed stickers, but every single order delivers the same guarantee of excellence. Our standard pre-slit stickers come in a range of shapes and sizes. They can be produced in a full colour or partially translucent design, so that they can be placed directly onto products or packaging.
Not sure what style of sticker you need? Get in contact with us today or come view our Melbourne-based store and we'll assist you in choosing the right sticker type.
Uncoated Sticker
Use this if you want a more matte looking finish on your sticker. The media is:
• Paper Based
• Permanent Adhesive
• Uncoated paper for a more matte look
• Is cheap and economical to print on
• Great for line work and text heavy labels
Gloss Sticker
Use this if you want a more glossy look on your sticker. The media is:
• Paper Based
• Permanent Adhesive
• Gloss coated paper
• Has better colour reproduction
• Is cheap and economical to print on
Synthetic Sticker
Use this if you want a tougher, more robust sticker that looks great in all situations. The media is:
• Clear or opaque finish
• Permanent Adhesive
• Semi gloss in appearance
• Has awesome colour reproduction
• More tear resistance and comes off easier

Circle, Rectangle, Oval or Custom shape sticker
Classic Colour Copying has a wide range of precut shaped stickers we can used for your project.  These are laid out with may items to an larger sheet, making these easy and fast to peel off. We have over 100 precut shapes you can use for easy and cheap manufacture of stickers and decals. Shapes we have include circles, rectangles and ovals. Custom size and shapes can be cut with ease and odd shapes are no problem, perfect for bottle labels, packaging and cover up stickers.
Pre Cut Sticker Sheets
These come in a wide range of sizes, and generally come on an A4 sheet. We have over 100 different sizes and shapes available for you to use. The benefits of using pre cuts stickers & decals are:
• The are low cost, with many items to a sheet
• They come in a range of common sizes
• They are easy to peel
• They come in a matte or gloss finish and are paper based
• We have over 100 shapes and sizes to choose from
• We can custom make large batches to most sizes ( 5000 or more sheets)
Custom shape and size stickers
If you need an odd, small or unusual shape, Classic Colour Copying can make these with ease. No minimum order and they are fast and affordable to do. This process allows a lot more flexibility with size, shape and media type. The benefits of using custom shaped stickers and decals are:
• They can be made from any size, from tiny to very large
• They can be made out of clear, matte, gloss or synthetic medias
• They kiss cut onto a large sheet and are easy to peel
• Sets of stickers can be made on the same sheet
• Any shape is possible
Promotional & Retail Decals
Classic Colour Copying also provides full scale promotional decals. These large adhesive prints can be placed on store windows, shop floors, retail spaces, and even on asphalt sidewalks. Plus, if you only want a temporary design, you can try our semi-permanent printed stickers. They are suitable for indoor and outdoor applications and can be removed in a matter of seconds for your convenience. Some applications of these stickers are:
• Wall decals and stickers
• Window decals and stickers
• Interior and Exterior mount stickers and decals
• Cut to shape retails decals and stickers
• Removable retail & promotional decals and stickers
• Wall friendly removable stickers retail
• Static Cling decals & stickers for mirrors and windows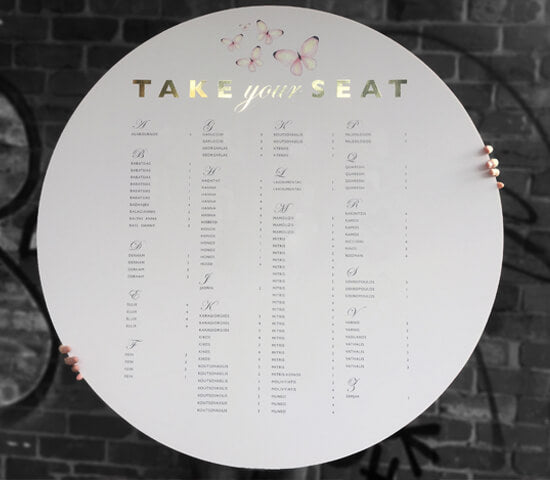 Computer Cut Vinyl Lettering
Classic Colour Copying is proud to offer in house computer cut vinyl graphics for your next project. This exciting technology can be used in a number of ways to create something really unique. Small runs and one off stickers are no problem. Ideas for this process include
• Gold, Silver, Black & White coloured Vinyl to embellish any sign, wedding seating chart. Special colors are available on request
• Shop window hours signs, in white vinyl for a professional look
• Model decals and custom shaped stickers and lettering
• Model boat,  model plane and miniature railway signage and lettering
• Custom wedding monogram stickers
• Bottle stickers and labels
• Stencils for paint masking
• Workshop and You Tube Stickers for your business

Cover Up & Patch Stickers
There is nothing worse than discovering a typo or error on your newly printing bottle, label, book or brochure print job. At Classic Colour Copying we offer what we call "Cover Up" or "Patch" Sticker, that perfectly covers up the error. Their small size means they are discrete, cut to the exact size needed and are very cost effective to do. The stickers can be millimeters high and wide, so you can make the correction as small and innocuous as possible.
Great for
• Covering up mistakes on Books
• Covering up errors on Packaging
• Patching over Barcodes and codes
• Updating prices on brochures
• Correcting labels quickly
• Correcting items while waiting for new batches to arrive.
The Advantages of Printed Stickers
The benefits of using printed stickers for promotions or advertising are endless. They are colourful, eye catching and can be used to convey important pieces of information or product features. With a bright, attractive sticker, you can break up branded designs and make sure that shoppers recognise your logo and products.
Why Classic Colour Is the Best Choice
When it comes to high-quality sticker printing in Melbourne, there's no better option than Classic Colour Copying. We are committed to fulfilling your practical and promotional needs, no matter how big or small. Our expert team is on hand to discuss your requirements and answer any questions that you might have about prices, sizes, turnaround rates, and more.
Are you looking for Sticker and Decal Printing in Melbourne?
Classic Colour Copying is Melbourne's number 1 choice for digital & sign printing, operating from the CBD with more than 30 years experience.
We are pioneers and specialists of
HIGH QUALITY DIGITAL PRINTING in Melbourne
Place Your Order or Ask Us For Some More Information